In this section
How to get a mortgage after an IVA
How long after an IVA can I get a mortgage?
What rates can I get on a mortgage after an IVA?
Can I remortgage during an IVA
What size of deposit will I need?
How to save for your deposit
Can I get a mortgage after an IVA?
You can get a mortgage after an IVA (Individual Voluntary Arrangement) but your choices may be more limited depending on the amount of time you have been out of the voluntary arrangement. Clever Mortgages are specialist mortgage brokers with a wealth of experience in helping to source an adverse credit mortgage after an IVA has completed.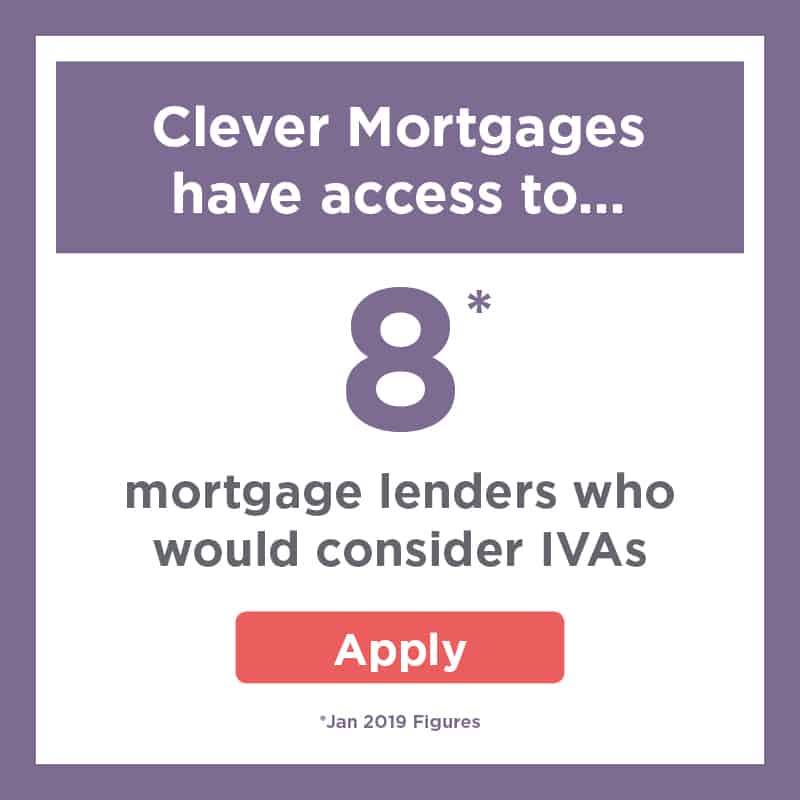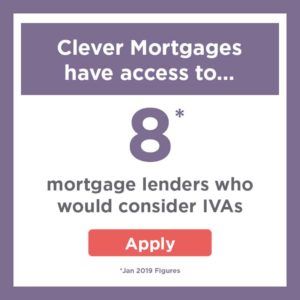 If you would prefer to speak to an Expert IVA Mortgage Adviser now, then please call us on 0800 197 0620 for mortgage advice.
How to get a mortgage after an IVA?
6 years after an IVA is registered the mark on your credit file should have come off and you should have received your completion certificate from your insolvency practitioner. This is worth checking on your credit file and also on the Insolvency Register.
Even with your credit file no longer showing an IVA it will have affected your credit rating and it can be difficult to get mainstream lenders to view your remortgage or mortgage application favorable. Luckily, there are often lenders who may provide a mortgage after an IVA. These specialist lenders are often referred to as "adverse mortgage lenders".
Adverse mortgage lenders are found and assisted by master brokers like Clever Mortgages, who help gather information and give the required advice so you can make an informed decision.
The process of finding and applying for a mortgage after an IVA is the same as most other applications, requiring documentation and an affordability assessment. All of which Clever Mortgages can assist you with.
How long after an IVA can I get a mortgage?
You are likely to have mortgage options straight after finishing your IVA. Your credit rating may cause your options to be somewhat limited and have a few restrictions, but it is worth investigating.
The number of specialist mortgage lenders willing to consider mortgages after an IVA will likely increase the longer you have been out of an arrangement.
There are also other lending products that could be possibilities such as Secured Loans or Product switches.
In some cases, there may be lenders who would consider a remortgage with you during the IVA, but with certain requirements, such as using funds to settle the IVA.
Some lenders may decline any application for a mortgage if you have ever had an IVA, but specialist lenders could consider applications regardless of your IVA history. Generally the longer the IVA has been completed, the more lenders may become options. High street lenders may have a harder time placing your situation within their criteria, which is where a specialist master broker like Clever Mortgages comes in.
Regardless of how long ago your IVA has completed, or even if you are looking for options and you are still in your IVA we can provide advice on getting a mortgage after an IVA.
What rates can I get on a mortgage after an IVA?
Clever Mortgages have a team of mortgage advisors who have helped many other people coming out of an IVA to make successful mortgage applications and remortgages.
The range of mortgage interest rates as of 26th March 2019 are between 1.52% to 3.63%**
Clever Mortgages were able to find a mortgage for one of our customers recently which saw him save money on mortgage fees, get a competitive 1.90% rate and get this rate fixed for 5 years *APRC representative of 3.6%
Can I remortgage during an IVA?
Remortgaging whilst you are in an active IVA is possible, but there are only a few specialist lenders who would consider your case. The reason for your remortgage would also determine whether or not you were able to pursue this option.
When remortgaging within an IVA there could be requirements from the lender, such as having to use released funds to settle the IVA early.
You could remortgage during the IVA to find a better rate or to fix the interest amounts but if your intention is to release equity, you would likely be expected to pay some of this into the voluntary arrangement.
These cases are certainly worth talking with Clever Mortgages about, as they are experts in remortgaging within IVA arrangements and after their completion.
What rates can I get on a remortgage after an IVA?
Remortgaging after an IVA could be one of the first actions you take following the completion of your debt solution arrangement. The remortgage could be used to lower your payments, interest rate or to release funds for home improvements.
Overall the rates you can get will be determined by whichever lenders are available to you.
Clever Mortgages were able to consolidate the clients' secured loan and his current mortgage into a new mortgage package. This took the clients monthly payments from £1,162 per month down to £650 saving £512 per month. *APRC representative of 3.6%
What size of deposit will I need?
The deposit size will vary by the lenders available to you, but you may be less impacted by your completed IVA history or debt solution than you think.
Some lenders may expect larger than average deposits due to your credit rating, whereas some may only expect the standard deposit size from 5% to 10% of the property value.
How to save for your deposit
Saving for the deposit can be an ordeal but you could reassign your monthly IVA payment amount into a separate account, creating a mortgage deposit savings pot.
Just because you have completed an IVA does not necessarily stop you from taking advantage of other deals such as; First Time Buyer initiatives like a 5% deposit scheme or Right to Buy schemes.
Another option is the Help-To-Buy scheme which could be an option depending on your circumstances and eligibility.
What is my credit file like after an IVA?
Your credit report will show your IVA for 6 years from the date of issue (From the start of the IVA). An IVA is an individual voluntary arrangement, meaning the term is adjusted based on your specific circumstances but usually last between 5 to 6 years, after which time you will receive a completion certificate from your insolvency practitioner.
This means that at the end or a year thereafter, the IVA will no longer be recorded as an active debt solution arrangement on your credit report. This does not mean that your credit reference will not show any debts or adverse credit like defaults or missing payments that were not included in your IVA.
Clever Mortgages are a specialist broker and can help you find a mortgage after an IVA and provide you with more information on the after effects of an IVA on a mortgage or remortgage application, including your chances of being accepted.
You can check your credit report from sites such as Experian, Noddle or Check My File which are able to give you an idea of what mortgage lenders base some of their decisions upon.
How will Clever Mortgages Help?
Clever Mortgages would use the Noddle report of your circumstances as it includes information on both Experian and Equifax. Credit reports directly from either Experian or Equifax could miss information shown on its counterpart.
Once you have a copy of your current credit profile, please complete the enquiry form below and the Clever Mortgages team can provide you with specialist advice and help find the options available to you.
A lender may consult one or more of the credit referencing agencies to help them make a decision on whether to lend to you. This can result in them potentially seeing more information on your credit profile than you would have access to (using just one credit referencing source).
A credit reference is done by a lender or mortgage broker as a part of any mortgage or remortgage application. This search is standard and highlights any current or past outstanding debts such as unsecured debt, hire purchase and secured debts.
* APRC Representative Example Mortgage amount £170,995 (including £995 mortgage lender fee), 64 payments of £748.30 at a fixed interest rate of 2.28%, followed by 236 mortgage repayments of £889.60 at a variable rate of 4.24%. Over a term of 25 years, giving a total amount payable of £258,861 at an APRC representative of 3.6%. The contract will be secured against your property.
**Based on rates available from 3 major lenders, lending on 85% LTV for a residential purchase, gift as deposit, 25-year term, and if IVA is no longer on credit file.